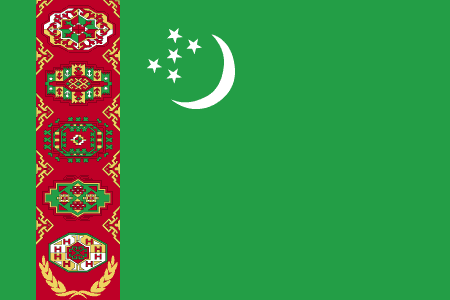 Turkmenistan
Politics and economy
Turkmenistan is a presidential republic. Large companies in heavy industry, agriculture, electrical power, transportation and telecommunications are state owned.
Turkmenistan is an export-oriented country. Having large reserves of natural gas (15-20 trillion cubic meters) and oil (1.5-2.0 billion metric tons), the country is one of the largest exporters of hydrocarbons in Central Asia.
Underlying Turkmenistan's banking system are 4 state-owned banks—Vnesheconombank, Turkmenistan, Turkmenbashi and Daikhanbank. The national currency of Turkmenistan is the manata.
National AML/CFT regime
On 28 May 2009 Turkmenistan adopted the Law "On Combating the Legalization of Criminal Income and Terrorist Financing"(ver. 2015) as well as a number of amendments to existing laws. Since then, the country has taken steps to harmonize its laws with international standards.
In particular, in May 2010, Turkmenistan adopted new amendments to its criminal code to bring it into compliance with the Vienna and Palermo conventions. As recommended by the FATF, the country has also introduced an article on criminal penalties for terrorist financing.
The Financial Monitoring Department of the Ministry Finance and Economic of Turkmenistan, an administrative-type financial intelligence unit, was created on 15 January 2010 which in October 2018 was transformed into the Service of the Financial Monitoring under the Ministry of Finance and Economy of Turkmenistan.
The Service is tasked with supporting the legal mechanism for combating the legalization of criminal income, terrorist financing and the crimes associated with them.
Turkmenistan's Minister of Finance in consultation with the Cabinet of Ministers appoints and dismisses the head of the office. The Acting Head of the Service of the Financial Monitoring of the Ministry of Finance and Economic of Turkmenistan is Mr. Maksat Kutlymyradov.
Cooperation with the EAG
Turkmenistan joined the Eurasian group on combating money laundering and financing of terrorism in June 2010 by a decision of the 12th Plenary meeting.
Beginning in December 2007, Turkmenistan had enjoyed observer status in the organization.
Membership in the EAG allows Turkmenistan to actively participate in the work of the Financial Action Task Force (FATF) in collaboration with other countries and international organizations in the area of combating money laundering and terrorist financing (AML/CFT).
In the spring of 2010, a FATF–EAG high-level mission was held in Turkmenistan in order to asses the state of the country's AML/CFT regime and to devise recommendations for its development. Experts from Russia, the United States, China and Switzerland took part in the mission.
The EAG conducted a mutual evaluation of Turkmenistan in 2010-2011.
The 19th EAG Plenary meeting was held in Turkmenistan in 2013.