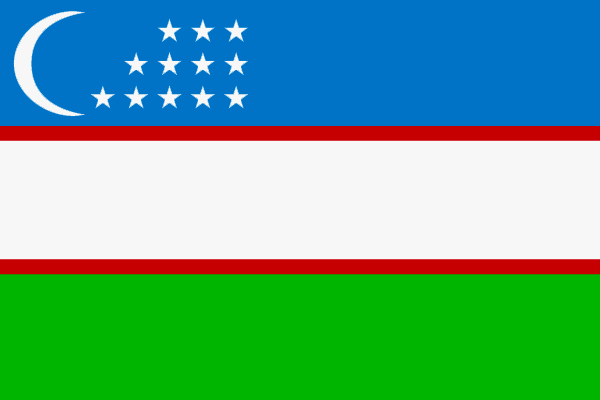 Republic of Uzbekistan
Politics and economy
Uzbekistan is a rule-of-law democratic state. The head of state is the president. The supreme state representative body is the Oly Mazhlis of the Republic of Uzbekistan.
The country's top industries are gold-mining and cotton production.
Uzbekistan exports cotton, gold, natural gas, mineral fertilizers, metals, textiles, food and cars. The country imports mainly industrial and chemical products as well as food and metals. Russia (21%) is its main trading partner.
Uzbekistan has a traditional bilevel banking system headed by the Central Bank of the Republic. The national currency of Uzbekistan is the sum.
National AML/CFT regime
Integration of the Republic of Uzbekistan into the global economy depends on a number of steps being taken to improve the country's national regime for combating the legalization of criminal proceeds and terrorist financing (AML/CFT) in compliance with international standards.
In 2004 the Parliament adopted the Law on AML/CFT, which entered into force in 2006.

In April 2009 the Parliament of Uzbekistan adopted a new version of the Law On Combating the Legalization of Criminal Income and Terrorist Financing, which was signed by the president. Experts from the International Monetary Fund, the World Bank and the UN Office on Drugs and Crime assisted in drafting the law.
The country's financial intelligence unit (FIU) is the Department on Combating Fiscal and Foreign Currency Crimes and Money Laundering under the Uzbekistani General Prosecutor's Office, founded by a government decree of 6 July 2001.
Initially, the department was created as a tax enforcement body. By a Cabinet of Ministers decree of 28 November 2002 it was transformed into the Department on Combating Fiscal and Currency Crimes and was tasked with enforcing currency laws.

In 2006 it was transformed into the Department on Combating Fiscal and Foreign Currency Crimes and Money Laundering. The department is a law-enforcement-type financial intelligence unit and has a number of tasks related to combating money laundering and terrorist financing as well as tax and currency crimes and recovering losses associated with these crimes.
The head of the department is equal in status to the General Prosecutor is appointed by the President of the Republic of Uzbekistan. The Head of the Department is Mr. Akmalhuja Mavlonov.
Cooperation with the EAG
Uzbekistan joined the EAG as a member state in 2005. Before that the country had an observer status.
The EAG mutual evaluation mission of Uzbekistan took place in 2009. The mutual evaluation report was approved by the 12th EAG Plenary.
The 22nd EAG Plenary meeting was held in Uzbekistan in May 2015.